About Us
The man behind the camera...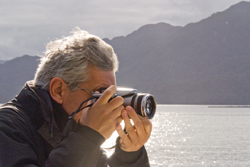 I have been photographing for many years – but my real ability is not just as a photographer – it is having the vision to create interesting images that have a use. An attractive picture, relevant, meaningful and immediately useable in a publication.
The skills to record landscapes, seascapes, wildlife and cookery have common denominators as well as huge challenges. Keeping in mind the desire to produce natural pictures means I am kept busy behind the camera in all seasons and photographs with a minimum of interference.
Vision is important too, in recognising publishing opportunities and fortunately having skills in the business to bring projects to successful conclusions.
Recently I have had to go to Chile for initial location work on a major motion picture – a new direction for the future?
I am very fortunate to be involved with Gateway Publishing Ltd Sark in developing interesting products of the Channel Islands and most recently two tremendously limited edition books of the highest quality The Book of Sark Centenary Edition and the David Shepherd Archive Collection.
Gateway Publishing Ltd is fast establishing a reputation as a publisher of really rare and fine limited edition books.